Corporate Law Practice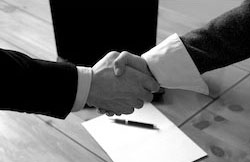 "JurisNexus Corporate Law Practice represents national and international corporations in various securities related transactions such as mergers & acquisitions, private placements, venture capital and private equity transactions."

Amaury Kestens, managing partner of JurisNexus BVBA/SPRL, coordinates JurisNexus' Corporate Law Practice, staffed by JurisNexus Team and enhanced by the expertise of external partners, a.o., law firm Quinz* for major transactions.

JurisNexus' preferred external partners may handle a number of high-level, sophisticated questions in connection with corporate law transactions. They have been selected by JurisNexus for their sector-related in depth knowledge and experience.

Transactions on which Amaury Kestens and JurisNexus' external partners have successfully worked together include a.o. the following:

• Quinz has represented Beherman Invest NV in 2012 in its acquisition of Mitsubishi Motors Belgium NV. This transaction was led by Pieter Wyckmans (partner at Quinz) and Amaury Kestens.

• Prior to the lanch of JurisNexus (2012) and Quinz (2011), Bart Lintermans (partner at Quinz) and Amaury Kestens have represented several Jones Day clients in the real estate sector in various mergers & acquisition transactions between 2004 and 2008.





* The corporate law department of Quinz is headed by three partners, former senior associates at Jones Day, Cleary Gottlieb, Linklaters and Loyens&Loeff, and is enhanced by the expertise of Benoît Allemeersch, partner at Quinz, and former counsel at Clifford Chance.




Fees:

Just as every other sound business is aiming at, in times of economic, and financial turmoils, we all need to become very cost conscious. "Therefore, JurisNexus' organization costs have been reduced to a very reasonable level. JurisNexus implements all means to offer you high quality legal support and international law firm standards excellence at affordable rates." As a result of our efforts, we achieve to keep fees at a signficant lower level than top tier business law firms' fees.